Today in the year of Our Lord 2016, is the Solemnity of the Nativity of Saint John the Baptist
---
---
---
The Birth of St. John the Baptist
This feast, a segment of Advent in the season of Ordinary Time, makes us aware of the wonderful inner relationship between the sacred mysteries; for we are still in the midst of one Church year and already a bridge is being erected to the coming year of grace.
Ordinarily the Church observes the day of a saint's death as his feast, because that day marks his entrance into heaven. To this rule there are two notable exceptions, the birthdays of Blessed Mary and of St. John the Baptist. All other persons were stained with original sin at birth, hence, were displeasing to God. But Mary, already in the first moment of her existence, was free from original sin (for which reason even her very conception is commemorated by a special feast), and John was cleansed of original sin in the womb of his mother. This is the dogmatic justification for today's feast. In the breviary St. Augustine explains the reason for today's observance in the following words:
"Apart from the most holy solemnity commemorating our Savior's birth, the Church keeps the birthday of no other person except that of John the Baptist. (The feasts of the Immaculate Conception and of the Nativity of the Blessed Virgin had not yet been introduced.) In the case of other saints or of God's chosen ones, the Church, as you know, solemnizes the day on which they were reborn to everlasting beatitude after ending the trials of this life and gloriously triumphing over the world.
"For all these the final day of their lives, the day on which they completed their earthly service is honored. But for John the day of his birth, the day on which he began this mortal life is likewise sacred. The reason for this is, of course, that the Lord willed to announce to men His own coming through the Baptist, lest if He appeared suddenly, they would fail to recognize Him. John represented the Old Covenant and the Law. Therefore he preceded the Redeemer, even as the Law preceded and heralded the new dispensation of grace."
In other words, today's feast anticipates the feast of Christmas. Taking an overall view, we keep during the course of the year only two mysteries, that of Christ's Incarnation and that of His Redemption. The Redemption mystery is the greater of the two; the Incarnation touches the human heart more directly. To the Redemption mystery the entire Easter season is devoted, from Septuagesima until Pentecost; and likewise every Sunday of the year, because Sunday is Easter in miniature.
The Christmas season has for its object the mystery of God-become-Man, to which there is reference only now and then during the remaining part of the year, e.g., on Marian feasts, especially that of the Annunciation (March 25) and today's feast in honor of the Baptist. In a sense, then, we are celebrating Christ's incarnation today. The birth of Jesus is observed on December 25 at the time of the winter solstice, while the birth of His forerunner is observed six months earlier at the time of the summer solstice. Christmas is a "light" feast; the same is true today. The popular custom centering about "St. John's Fire" stems from soundest Christian dogma and could well be given renewed attention. St. John's Fire symbolizes Christ the Light; John was a lamp that burned and shone. We Christians should be the light of the world.
St. John the Baptist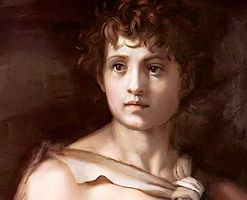 We are given the story of the ministry of John the Baptist, called the Precursor or Forerunner of the Lord, with some variation of detail, in the three synoptic Gospels of Matthew, Mark, and Luke, as well as in the Book of John. Luke tells us of the birth of John the Baptist in a town of Judaea, about six months before the birth of the Saviour. The attendant circumstances, which we have already recounted under the headings of and , his parents, suggest the miraculous and wonderful. The New Testament tells us nothing of John's early years, but we know that his pious, virtuous parents must have reared the boy with care, conscious always of the important work to which he was appointed, and imbuing him with a sense of his destiny.
When John began final preparations for his mission, he was probably in his thirty-second year. He withdrew into the harsh, rocky desert beyond the Jordan to fast and pray, as was the ancient custom of holy men. We are told that he kept himself alive by eating locusts and wild honey and wore a rough garment of camel's hair, tied with a leathern girdle. When he came back to start preaching in the villages of Judaea, he was haggard and uncouth, but his eyes burned with zeal and his voice carried deep conviction. The Jews were accustomed to preachers and prophets who gave no thought to outward appearances, and they accepted John at once; the times were troubled, and the people yearned for reassurance and comfort. So transcendant was the power emanating from the holy man that after hearing him many believed he was indeed the long-awaited Messiah. John quickly put them right, saying he had come only to prepare the way, and that he was not worthy to unloose the Master's sandals. Although his preaching and baptizing continued for some months during the Saviour's own ministry, John always made plain that he was merely the Forerunner. His humility remained incorruptible even when his fame spread to Jerusalem and members of the higher priesthood came to make inquiries and to hear him. "Repent, for the Kingdom of Heaven is at hand,"-this was John's oft-repeated theme. For the evils of the times his remedy was individual purification. "Every tree," he said, "that is not bringing forth good fruit is to be cut down and thrown into the fire." The reformation of each person's life must be complete—the wheat must be separated from the chaff and the chaff burned "with unquenchable fire."
The rite of baptism, a symbolic act signifying sincere repentance as well as a desire to be spiritually cleansed in order to receive the Christ, was so strongly emphasized by John that people began to call him "the baptizer." The Scriptures tell us of the day when Jesus joined the group of those who wished to receive baptism at John's hands. John knew Jesus for the Messiah they had so long expected, and at first excused himself as unworthy. Then, in obedience to Jesus, he acquiesced and baptized Him. Although sinless, Jesus chose to be baptized in order to identify Himself with the human lot. And when He arose from the waters of the Jordan, where the rite was performed, "the heavens opened and the Spirit as a dove descended. And there came a voice from the heavens, Thou art my beloved Son, in Thee I am well pleased" (Mark i, 11).
John's life now rushes on towards its tragic end. In the fifteenth year of the reign of the Roman emperor, Tiberias Caesar, Herod Antipas was the provincial governor or tetrarch of a subdivision of Palestine which included Galilee and Peraea, a district lying east of the Jordan. In the course of John's preaching, he had denounced in unmeasured terms the immorality of Herod's petty court, and had even boldly upbraided Herod to his face for his defiance of old Jewish law, especially in having taken to himself the wife of his half-brother, Philip. This woman, the dissolute Herodias, was also Herod's niece. Herod feared and reverenced John, knowing him to be a holy man, and he followed his advice in many matters; but he could not endure having his private life castigated. Herodias stimulated his anger by lies and artifices. His resentment at length got the better of his judgment and he had John cast into the fortress of Machaerus, near the Dead Sea. When Jesus heard of this, and knew that some of His disciples had gone to see John, He spoke thus of him: "What went you to see? A prophet? Yea, I say to you, and more than a prophet. This is he of whom it is written: Behold I send my angel before thy face, who shall prepare thy way before thee. For I say to you, amongst those that are born of women there is not a greater prophet than John the Baptist" (Matthew xi, 10-12).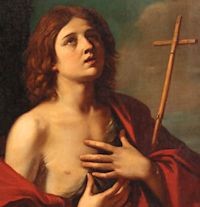 Herodias never ceased plotting against the life of John, who was not silenced even by prison walls. His followers now became even more turbulent. To Herodias soon came the opportunity she had long sought to put an end to the trouble-maker. On Herod's birthday he gave a feast for the chief men of that region. In Matthew xiv, Mark vi, and Luke ix, we are given parallel accounts of this infamous occasion which was to culminate in John's death. At the feast, Salome, fourteen-year-old daughter of Herodias by her lawful husband, pleased Herod and his guests so much by her dancing that Herod promised on oath to give her anything that it was in his power to give, even though it should amount to half his kingdom. Salome, acting under the direction and influence of her wicked mother, answered that she wished to have the head of John the Baptist, presented to her on a platter. Such a horrible request shocked and unnerved Herod. Still, he had given his word and was afraid to break it. So, with no legal formalities whatever, he dispatched a soldier to the prison with orders to behead the prisoner and return with it immediately. This was quickly done, and the cruel girl did not hesitate to accept the dish with its dreadful offering and give it to her mother. John's brief ministry was thus terminated by a monstrous crime. There was great sadness among the people who had hearkened to him, and when the disciples of Jesus heard the news of John's death, they came and took the body and laid it reverently in a tomb. Jesus, with some of his disciples, retired "to a desert place apart," to mourn.
The Jewish historian Josephus, giving further testimony of John's holiness, writes: "He was indeed a man endued with all virtue, who exhorted the Jews to the practice of justice towards men and piety towards God; and also to baptism, preaching that they would become acceptable to God if they renounced their sins, and to the cleanness of their bodies added purity of soul." Thus Jews and Christians unite in reverence and love for this prophet-saint whose life is an incomparable example of both humility and courage.
---
---
In an effort to include all Catholics, those who go to the EF & OF of the Latin Rite, you may notice some Saints not mentioned in your Missal or Liturgical Calendar – this is because we are including all Saints from both Calendars. Because of this some Feast days will be repeated throughout the year
---
---
---
Today in Catholic History
Today in 474 – Julius Nepos forces Roman usurper Glycerius to abdicate the throne and proclaims himself Emperor of the Western Roman Empire. Nepos retained claim to the Imperial title, but exercised no real power outside of Dalmatia. In name at least, the Western Roman Empire continued to exist after 476, but only as a legal formality and as a sop to Imperial tradition.
Today in 803 – English Bishop Higbald of Lindisfarne receives his eternal reward. Little is known about his life except that he was a regular communicator with Alcuin of York; it is in his letters to Alcuin that Higbald described in graphic detail the Viking raid on Lindisfarne on 8 January 793 in which many of his monks were killed.
Today in 1230 – The Siege of Jaén started from 24 June through September, 1230 by forces of the Kingdom of Castile commanded by Ferdinand III of Castile against the defending Taifa of Jayyān (جيان). The battle resulted in a Jayyānese victory after the Castilian withdrawal and abandonment of the siege immediately following the death of King Alfonso IX of León.

The Siege of Jaén was one of many sieges on that city during the Spanish Reconquista. The siege was carried out
Today in 1314 – First War of Scottish Independence: The Battle of Bannockburn concludes with a decisive victory by Scottish forces led by Robert the Bruce, though England did not recognize Scottish independence until 1328 with the signing of the Treaty of Edinburgh–Northampton
Today in 1340 – Hundred Years' War: Battle of Sluys: The French fleet is almost completely destroyed by the English fleet commanded in person by King Edward III.

With the French navy crippled and with Edward winning success at other naval engagements, he became confident enough to dispense with a regular navy. He chose instead to overwork his mercantile marine by continually impressing the ships and neglecting to pay for them. The result was that merchants were ruined and shipbuilding ceased. By the end of Edward's reign the French had revived their navy and were again able to dominate the channel and raid the south coast of England.
Today in 1374 – A sudden outbreak of St. John's Dance causes people in the streets of Aachen, Germany, to experience hallucinations and begin to jump and twitch uncontrollably until they collapse from exhaustion.

One of the most prominent theories is that victims suffered from ergot poisoning, which was known as St. Anthony's fire in the Middle Ages. During floods and damp periods, ergots were able to grow and affect rye and other crops. Ergotism can cause hallucinations and convulsions, but cannot account for the other strange behaviour most commonly identified with dancing mania
Today in 1386 – Saint John of Capistrano (Italian Priest) is born (d. 1456)

Famous as a preacher, theologian, and inquisitor, he earned himself the nickname 'the Soldier Saint' when in 1456 at age 70 he led a crusade against the invading Ottoman Empire at the siege of Belgrade with the Hungarian military commander John Hunyadi.

Elevated to sainthood, he is the patron saint of Hungary, jurists and military chaplains, as well as the namesake of the Franciscan missions San Juan Capistrano in Southern California and San Juan Capistrano in San Antonio, Texas.
Today in 1509 – Henry VIII and Catherine of Aragon are crowned King and Queen of England.

The new king maintained that it had been his father's dying wish that he marry Catherine. Whether or not this was true, it was certainly convenient. Holy Roman Emperor Maximilian I had been attempting to marry his granddaughter (and Catherine's niece) Eleanor to Henry; she had now been jilted. Henry's wedding to Catherine was kept low-key and was held at the friar's church in Greenwich on 11 June 1509. On 23 June 1509, Henry led the now 23-year-old Catherine from the Tower of London to Westminster Abbey for their coronation, which took place the following day. It was a grand affair: the king's passage was lined with tapestries and laid with fine cloth. Following the ceremony, there was a grand banquet in Westminster Hall. As Catherine wrote to her father, "our time is spent in continuous festival".
Today in 1540 – Henry VIII divorces his 4th wife, Anne of Cleves.

Anne of Cleves (1515 – 1557) was Queen of England from 6 January 1540 to 9 July 1540 as the fourth wife of King Henry VIII. The marriage was declared never consummated and, as a result, she was not crowned queen consort. Following the annulment of their marriage, Anne was given a generous settlement by the King, and thereafter referred to as the King's Beloved Sister. She lived to see the coronation of Queen Mary I, outliving the rest of Henry's wives.
Today in 1542 –Spanish Mystic and Saint John of the Cross is born (d. 1591)

Saint John of the Cross (1542 – 1591), was a major figure of the Counter-Reformation, a Spanish mystic, a Catholic saint, a Carmelite friar and a priest who was born at Fontiveros, Old Castile.

John of the Cross was a reformer in the Carmelite Order of his time and the movement he helped initiate, along with Saint Teresa of Ávila, eventually lead to the establishment of the Discalced Carmelites, though neither he nor Teresa were alive when the two orders separated. He is also known for his writings. Both his poetry and his studies on the growth of the soul are considered the summit of mystical Spanish literature and one of the peaks of all Spanish literature. He was canonized as a saint in 1726 by Pope Benedict XIII. He is one of the thirty-six Doctors of the Church.
Today in 1663 – French Bishop Jean Baptiste Massillon is born (d. 1742)

Massillon's popularity was probably because in his sermons he lays little stress on dogmatic questions, but treats generally of moral subjects, in which the secrets of the human heart and the processes of man's reason are described with poetical feeling.
---
Is there a noteworthy historical date that isn't mentioned, leave a comment and let us know
---
---
---
---
---
Mass Readings according to the 1960 Rubrics of the Latin Rite
---
Lesson / Lectio
Isaias 49: 1-3, 5-7
Give ear, ye islands, and harken, ye people from afar. The Lord hath called me from the womb, from the bowels of my mother He hath been mindful of my name. Arid He hath made my mouth like a sharp sword; in the shadow of His hand He hath protected me, and hath made me as a chosen arrow; in His quiver He hath hidden me. And He said to me: Thou art My servant Israel, for in thee will I glory. And now saith the Lord that formed me from the womb to be His servant: Behold I have given thee to be the light of the Gentiles, that thou mayest be My salvation even to the farthest part of the earth. Kings shall see, and princes shall rise up, and adore for the Lord's sake, and for the Holy One of Israel Who hath chosen thee.
R. Thanks be to God.

AUDÍTE, ínsulæ, et atténdite, pópuli de longe: Dóminus ab útero vocávit me, de ventre matris meæ recordátus est nóminis mei. Et pósuit os meum quasi gládium acútum: in umbra manus suæ protéxit me, et pósuit me sicut sagíttam eléctam: in pháretra sua abscóndit me. Et dixit mihi: Servus meus es tu, Israël, quia in te gloriábor. Et nunc dicit Dóminus, formans me ex útero servum sibi: Ecce dedi te in lucem géntium, ut sis salus mea usque ad extrémum terræ. Reges vidébunt, et consúrgent príncipes, et adorábunt propter Dó- minum, et sanctum Israël, qui elégit te.

R. Deo gratias.
Gradual / Graduale
1964=The celebrant is not to say privately those parts sung or recited by the Choir or congregation; he may sing or recite along
Jeremias 1: 5, 9
Before I formed thee in the bowels of thy mother, I knew thee: and before thou camest forth out of the womb, I sanctified thee. V. The Lord put forth His hand, and touched my mouth: and said to me.

PRIÚSQUAM te formárem in útero, novi te: et ántequam exires de ventre,sanctificávi te. V. Misit Dóminus manum suam, et tétigit os meum, et dixit mihi
ALLELUIA
Alleluia, alleluia. V. Thou, child, shalt be called the Prophet of the Highest; thou shalt go before the Lord to prepare His ways. Alleluia.

ALLELÚIA, allelúia. V. Tu, puer prophéta Altíssimi vocáberis: præíbis ante Dóminum paráre vias ejus. Allelúia
Gospel / Evangelium
The Missal is transferred to the other side of the altar to symbolize that the divine favor was taken away from the unfaithful Jews and given to the Gentiles. At Low Masses, the priest, bowing down at the middle of the altar, with his hands joined, says:
Si vero Sacerdos sine Diacono et Subdiacono celebrat, de-lato libro ad aliud cornu Altaris, inclinatus in medio, iunctis manibus dicit:
Cleanse my heart and my lips, O almighty God, who didst cleanse the lips of the prophet Isaias with a burning coal, and vouchsafe, through Thy gracious mercy, so to purify me, that I may worthily announce Thy holy Gospel. Through Christ our Lord. Amen.

Give me Thy blessing, O Lord. The Lord be in my heart and on my lips, that I may worthily and in a becoming manner, proclaim His holy Gospel. Amen.

P. The Lord be with you.
S. And with thy spirit.
Continuation ☩ of the Holy Gospel according to Luke
R. Glory be to Thee, O Lord.
Munda cor meum, ac labia mea, omnípotens Deus, qui labia Isaíæ Prophétæ cálculo mundásti igníto: ita me tua grata miseratióne dignáre mundáre, ut sanctum Evangélium tuum digne váleam nuntiáre. Per Christum, Dóminum nostrum. Amen.

Iube, Dómine, benedícere. Dóminus sit in corde meo et in lábiis meis: ut digne et competénter annúntiem Evangélium suum. Amen.

Deinde, conversus ad librum, iunctis manibus, dicit:
V. Dóminus vobíscum.
R. Et cum spíritu tuo.

Sequéntia ✠ sancti Evangélii secúndum Matthaeum.
R. Gloria tibi, Domine!
Luke 1: 57-68
Elizabeth's full time of being delivered was come, and she brought forth a son. And her neighbours and kinsfolk heard that the Lord had showed His great mercy towards her, and they congratulated with her. And it came to pass, that on the eighth day they came to circumcise the child, and they called him by his father's name, Zachary. And his mother answering, said Not so, but he shall be called John. And they said to her: There is none of thy kindred that is called by that name. And they made signs to his father, how he would have him called. And demanding a writing-table, he wrote, saying: John is his name: and they all wondered. And immediately his mouth was opened, and his tongue loosed; and he spoke, blessing God. And fear came upon all their neighbours; and all these things were noised abroad over all the hill country of Judea; and all they that had heard them, laid them up in their heart, saying: What a one, think ye, shall this child be? For the hand of the Lord was with him. And Zachary his father was filled with the Holy Ghost; and he prophesied, saying: Blessed be the Lord God of Israel; because He hath visited, and wrought the redemption of His people

R. Praise be to Thee, O Christ.
S. By the words of the Gospel may our sins be blotted out.
ELISABETH implétum est tempus pariéndi, et péperit fílium. Et audié- runt vicíni, et cognáti ejus, quia magnificávit Dóminus misericórdiam suam cum illa, et congratulabántur ei. Et factum est in die octávo, venérunt círcumcídere pú- erum, et vocábant eum nómine patris sui Zacharíam. Et respóndens mater ejus, dixit: Nequáquam, sed vocábitur Joánnes. Et dixérunt ad illam: Quia nemo est in cognatióne tua, qui vócétur hoc nómine. Innué- bant autem patri ejus, quem vellet vocári eum. Et póstulans pugill- árem, scripsit, dicens: Joánnes est nomen ejus. Et miráti sunt univérsi. Apértum est autem illico os ejus, et lingua ejus, et loquebátur benedí- cens Deum. Et factus est timor super omnes vicínos eórum: et super ómnia montána Judææ divulgabántur ómnia verba hæc: et posuérunt omnes, qui audíerant in corde suo, dicéntes: Quis, putas puer iste erit? Etenim manus. Dómini erat cum illo. Et Zacharías pater ejus replétus est Spíritu Sancto, et prophetávit, dicens: Benedíctus Dóminus Deus Israël, quia visitávit et fecit redemptiónem plebis suæ.

R. Laus tibi, Christe!
S. Per Evangelica dicta, deleantur nostra delicta.
Homily is obligatory in Sunday Holy Days of obligations and if some number of faithful are gathered for the Mass
Post Communion / Postcommunio
May Thy Church, O God, be joyful at the birth of blessed John the Baptist: through whom she knew the Author of her regeneration, our Lord Jesus Christ, Thy Son: Who with Thee livest and reignest.
SUMAT Ecclésia tua, Deus, beáti Jo- ánnis Baptístæ generatióne lætitiam: per quem suæ regeneratiónis cognóvit auctórem, Dóminum nostrum Jesum Christum Fiiium tuum: Qui tecum vivit et regnat.
---
---
Oratio Leonis XIII
S. Ave Maria, gratia plena, Dominus tecum, benedicta tu in mulieribus et benedictus fructis ventris tui, Iesus.
O. Sancta Maria, Mater Dei, ora pro nobis peccatoribus, nunc et in hora mortis nostrae. Amen.
S. Ave Maria, gratia plena, Dominus tecum, benedicta tu in mulieribus et benedictus fructis ventris tui, Iesus.
O. Sancta Maria, Mater Dei, ora pro nobis peccatoribus, nunc et in hora mortis nostrae. Amen.
S. Ave Maria, gratia plena, Dominus tecum, benedicta tu in mulieribus et benedictus fructis ventris tui, Iesus.
O. Sancta Maria, Mater Dei, ora pro nobis peccatoribus, nunc et in hora mortis nostrae. Amen.
O. Salve Regina, Mater misericordiae, vita, dulcedo, et spes nostra, salve. Ad te clamamus, exsules filii Evae. Ad te suspiramus gementes et fientes in hac lacrymarum valle. Eia ergo, Advocata nostra, illos tuos misericordes oculos ad nos converte. Et Iesum, benedictum fructum ventris tui, nobis, post hoc exilium, ostende. O clemens, o pia, o dulcis Virgo Maria.
S. Ora pro nobis, sancta Dei Genitrix.
O. Ut digni efficiamur promissionibus Christi.
S. Orémus. Deus, refúgium nostrum et virtus, populum ad te clamantem propitius respice; et intercedente gloriosa, et immaculata Virgine Dei Genitrice Maria, cum beato Ioseph, eius Sponso, ac beatis Apostolis tuis Petro et Paulo, et omnibus Sanctis, quas pro conversione peccatorum, pro libertate et exaltatione sanctae Matris Ecclesiae, preces effundimus, misericors et benignus exaudi. Per eundem Christum Dominum nostrum. Amen.
O. Sancte Michaël Archangele, defende nos in proelio; contra nequitiam et insidias diaboli esto praesidium. Imperet illi Deus, supplices deprecamur: tuque, Princeps militiae Caelestis, satanam aliosque spiritus malignos, qui ad perditionem animarum pervagantur in mundo, divina virtute in infernum detrude. Amen.
S. Cor Iesu sacratissimum.
O. Miserere nobis.
S. Cor Iesu sacratissimum.
O. Miserere nobis.
S. Cor Iesu sacratissimum.
O. Miserere nobis.
---
---
---
Mass Readings according to 2002 Rubrics of the Latin Rite Ordinary Form
USA

Translation is from the The New American Bible, Revised Edition (NABRE) Source USCCB Website
According to the USCCB -The United States Conference of Catholic Bishops, the ICBC The Irish Conference of Catholic Bishops and the CBCEW The Catholic Bishops' Conference of England and Wales
USA
Hear me, O coastlands,
listen, O distant peoples.
The LORD called me from birth,
from my mother's womb he gave me my name.
He made of me a sharp-edged sword
and concealed me in the shadow of his arm.
He made me a polished arrow,
in his quiver he hid me.
You are my servant, he said to me,
Israel, through whom I show my glory.

Though I thought I had toiled in vain,

and for nothing, uselessly, spent my strength,
yet my reward is with the LORD,
my recompense is with my God.
For now the LORD has spoken
who formed me as his servant from the womb,
that Jacob may be brought back to him
and Israel gathered to him;
and I am made glorious in the sight of the LORD,
and my God is now my strength!
It is too little, he says, for you to be my servant,
to raise up the tribes of Jacob,
and restore the survivors of Israel;
I will make you a light to the nations,
that my salvation may reach to the ends of the earth.
R

. (14)

I praise you, for I am wonderfully made.

O LORD, you have probed me, you know me:

you know when I sit and when I stand;

you understand my thoughts from afar.

My journeys and my rest you scrutinize,

with all my ways you are familiar.

R

.

I praise you for I am wonderfully made.

Truly you have formed my inmost being;

you knit me in my mother's womb.

I give you thanks that I am fearfully, wonderfully made;

wonderful are your works.

R

.

I praise you, for I am wonderfully made.

My soul also you knew full well;

nor was my frame unknown to you

When I was made in secret,

when I was fashioned in the depths of the earth.

R

.

I praise you, for I am wonderfully made.
In those days, Paul said:
"God raised up David as king;
of him God testified,
I have found David, son of Jesse, a man after my own heart;
he will carry out my every wish.
From this man's descendants God, according to his promise,
has brought to Israel a savior, Jesus.
John heralded his coming by proclaiming a baptism of repentance
to all the people of Israel;
and as John was completing his course, he would say,
'What do you suppose that I am? I am not he.
Behold, one is coming after me;
I am not worthy to unfasten the sandals of his feet.'

"My brothers, sons of the family of Abraham,
and those others among you who are God-fearing,
to us this word of salvation has been sent."
R. Alleluia, alleluia.
You, child, will be called prophet of the Most High,
for you will go before the Lord to prepare his way.
R. Alleluia, alleluia.
When the time arrived for Elizabeth to have her child
she gave birth to a son.
Her neighbors and relatives heard
that the Lord had shown his great mercy toward her,
and they rejoiced with her.
When they came on the eighth day to circumcise the child,
they were going to call him Zechariah after his father,
but his mother said in reply,
"No. He will be called John."
But they answered her,
"There is no one among your relatives who has this name."
So they made signs, asking his father what he wished him to be called.
He asked for a tablet and wrote, "John is his name,"
and all were amazed.
Immediately his mouth was opened, his tongue freed,
and he spoke blessing God.
Then fear came upon all their neighbors,
and all these matters were discussed
throughout the hill country of Judea.
All who heard these things took them to heart, saying,
"What, then, will this child be?"
For surely the hand of the Lord was with him.
The child grew and became strong in spirit,
and he was in the desert until the day
of his manifestation to Israel.
UK
First reading : Isaiah 49:1-6
Islands, listen to me,

pay attention, remotest peoples.

The Lord called me before I was born,

from my mother's womb he pronounced my name.

He made my mouth a sharp sword,

and hid me in the shadow of his hand.

He made me into a sharpened arrow,

and concealed me in his quiver.

He said to me, 'You are my servant (Israel)

in whom I shall be glorified';

while I was thinking, 'I have toiled in vain,

I have exhausted myself for nothing';

and all the while my cause was with the Lord,

my reward with my God.

I was honoured in the eyes of the Lord,

my God was my strength.

And now the Lord has spoken,

he who formed me in the womb to be his servant,

to bring Jacob back to him,

to gather Israel to him:

'It is not enough for you to be my servant,

to restore the tribes of Jacob and bring back the survivors of Israel;

I will make you the light of the nations

so that my salvation may reach to the ends of the earth.'
Responsorial Psalm : Psalm 138:1-3,13-15
I thank you for the wonder of my being.

O Lord, you search me and you know me,

  you know my resting and my rising,

  you discern my purpose from afar.

You mark when I walk or lie down,

  all my ways lie open to you.

I thank you for the wonder of my being.

For it was you who created my being,

  knit me together in my mother's womb.

I thank you for the wonder of my being,

  for the wonders of all your creation.

I thank you for the wonder of my being.

Already you knew my soul,

  my body held no secret from you

when I was being fashioned in secret

  and moulded in the depths of the earth.

I thank you for the wonder of my being.
Second reading : Acts 13:22-26
Paul said: 'God deposed Saul and made David their king, of whom he approved in these words, "I have selected David son of Jesse, a man after my own heart, who will carry out my whole purpose." To keep his promise, God has raised up for Israel one of David's descendants, Jesus, as Saviour, whose coming was heralded by John when he proclaimed a baptism of repentance for the whole people of Israel. Before John ended his career he said, "I am not the one you imagine me to be; that one is coming after me and I am not fit to undo his sandal."

  'My brothers, sons of Abraham's race, and all you who fear God, this message of salvation is meant for you.'
Gospel Acclamation : cf.Lk1:76
Alleluia, alleluia!

As for you, little child, you shall be called

a prophet of God, the Most High.

You shall go ahead of the Lord

to prepare his ways before him.

Alleluia!
Gospel : Luke 1:57-66,80
The time came for Elizabeth to have her child, and she gave birth to a son; and when her neighbours and relations heard that the Lord had shown her so great a kindness, they shared her joy.

  Now on the eighth day they came to circumcise the child; they were going to call him Zechariah after his father, but his mother spoke up. 'No,' she said 'he is to be called John.' They said to her, 'But no one in your family has that name', and made signs to his father to find out what he wanted him called. The father asked for a writing-tablet and wrote, 'His name is John.' And they were all astonished. At that instant his power of speech returned and he spoke and praised God. All their neighbours were filled with awe and the whole affair was talked about throughout the hill country of Judaea. All those who heard of it treasured it in their hearts. 'What will this child turn out to be?' they wondered. And indeed the hand of the Lord was with him.

  Meanwhile the child grew up and his spirit matured. And he lived out in the wilderness until the day he appeared openly to Israel.
---
---
Prayers Ordered by Pope Leo XIII
To be said kneeling after the celebration of Low Mass.
P. Hail Mary, full of grace; The Lord is with thee; Blessed art thou amongst women, And blessed is the fruit of thy womb, Jesus.
A. Holy Mary, Mother of God, Pray for us sinners, now and at the hour of our death. Amen.
P. Hail Mary, full of grace; The Lord is with thee; Blessed art thou amongst women, And blessed is the fruit of thy womb, Jesus.
A. Holy Mary, Mother of God, Pray for us sinners, now and at the hour of our death. Amen.
P. Hail Mary, full of grace; The Lord is with thee; Blessed art thou amongst women, And blessed is the fruit of thy womb, Jesus.
A. Holy Mary, Mother of God, Pray for us sinners, now and at the hour of our death. Amen.
A. Hail, holy Queen, Mother of mercy, our life, our sweetness, and our hope. To thee do we cry, poor banished children of Eve. To thee do we send up our sighs, mourning and weeping in this valley of tears. Turn then, most gracious Advocate, thine eyes of mercy towards us. And after this our exile, show unto us the blessed Fruit of thy womb, Jesus. O clement, O loving, O sweet Virgin Mary.
P. Pray for us, O Holy Mother of God.
O. That we may be made worthy of the promises of Christ.
P. Let us pray. O God, our refuge and our strength, look down in mercy on Thy people who cry to Thee; and by the intercession of the glorious and immaculate Virgin Mary, Mother of God, of St. Joseph her Spouse, of Thy blessed Apostles Peter and Paul, and of all the Saints, in mercy and goodness hear our prayers for the conversion of sinners, and for the liberty and exaltation of our holy Mother and Church. Through the same Christ our Lord.
A. Holy Michael Archangel, defend us in the day of battle; be our safeguard against the wickedness and snares of the devil. — May God rebuke him, we humbly pray: and do thou, Prince of the heavenly host, by the power of God thrust down to hell Satan and all wicked spirits, who wander through the world for the ruin of souls.
P. Most Sacred Heart of Jesus,
A. Have mercy upon us.
P. Most Sacred Heart of Jesus,
A. Have mercy upon us.
P. Most Sacred Heart of Jesus,
A. Have mercy upon us.
---
---
---
---
CATHOLIC TODAY IS 
Also Check out